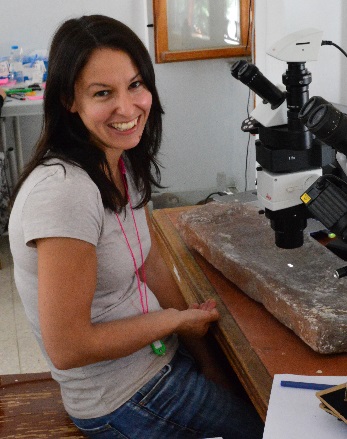 Christina Tsoraki is the ground stone specialist for the SArPedon project. She is currently a Marie Curie Intra-European Research Fellow at Leiden University (Material Culture Studies). Her project investigates the role of technology in the development of social networks in early farming societies through an interdisciplinary research strategy that integrates stone technology and functional analysis with a wide range of other inorganic and organic materials (e.g. plants, animal bones, pottery, shells). She holds an MA and a PhD from the University of Sheffield where she studied lithic technology and Aegean Prehistory.
Her PhD focused on the technological and contextual analysis of the ground stone assemblage from Late Neolithic Makriyalos, Northern Greece. After finishing her doctoral thesis Christina held the Geoarchaeology Fellowship at the Wiener Laboratory at the American School of Classical Studies at Athens, Greece. Christina has worked as a ground stone specialist for various Neolithic, Bronze Age and Archaic projects in mainland Greece, Crete, Cyprus and Turkey.
Her research interests focus on theory and material culture, cross-craft interaction, social and technological networks, use-wear analysis, physical and mechanical properties of rocks and their affordances, household economies, and the constitution of household and communal identities through daily practice.